---
ApartmentSchwarze Sittner
A PLACE TO STAY IN ZERMATT


DISCOVER SCHWARZE SITTNER
A comfortable apartment for a holiday filled with pure happiness
Are you looking for a place to stay in Zermatt for an unforgettable holiday in one of Switzerland's most beautiful resorts? Rent an apartment in Zermatt in Switzerland that can accommodate 4 to 6 people in a completely renovated luxury holiday residence that has retained its family character. For those who love to snow sports and those who love wide open spaces, the Legendar is the ideal departure point for skiing.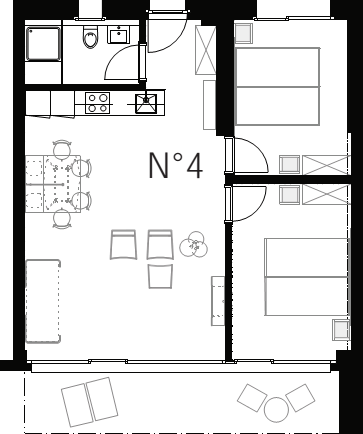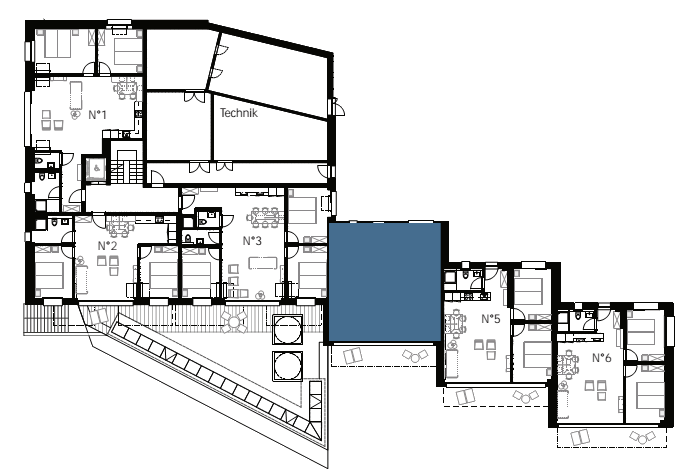 Are you looking for an apartment to rent in Zermatt for 4 or 6 people? Discover the Schwarze Sittner apartment in the Legendar residence in one of the most beautiful places in the Swiss Alps. This charming holiday apartment welcomes its guests into an exceptional setting.
Whether you are travelling with your family or with friends, you will experience the comfort and feeling of being on holiday in an atmosphere that is "just like home". Every one of these apartments for 4 or 6 people is luxuriously furnished and perfectly equipped to offer you all the modern comforts, even in the heart of the Alpine massif. With a floor area of nearly 70 m2, you do not need to worry about being cramped. Two bedrooms, a fine open-plan living room-kitchen and even a large outdoor balcony, are waiting for you to welcome family or friends who want to share unforgettable moments in a spacious holiday apartment.
In addition to respecting everyone's privacy, the apartment encourages conviviality with equipment such as a raclette machine and a fondue set. Imagine the pleasure of eating delicious Swiss cheese with a breath-taking view of the Matterhorn, an iconic figure in the Swiss Alps... a moment of pure delight! Of course, your chosen accommodation in Zermatt for 4 or 6 people has a fully equipped kitchen, a flat-screen TV, oven and dishwasher so you can have a good time away from the chores of everyday life.
Come and leave your luggage in the Legendar residence and the Schwarze Sittner apartment and enjoy your holidays and the incredible scenery! Take full advantage all the services the residence has to offer, including an indoor swimming pool, a jacuzzi and a children's playroom.
---